Accolades for Nick Bradley
Nick, thanks for getting me back in the winner's circle!
Justin Rose
2013 US Open Champion European #1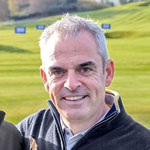 Nick, you were the natural person to help me with my Captaincy.

Paul McGinley
2014 Winning Ryder Cup Captain
Nick Bradley is one of the world's newest teaching stars.

Butch Harmon
Ranked #1 Golf Instructor in the World
Nick Bradley is the most Innovative Golf instructor in the World.
Golf Digest
An amazing keynote, Nick – we had over 30 people approach us afterwards saying how much they gained from it. Mission accomplished!
Declan Bolger
VP Club Services MLS
Nick Bradley gave our clients and prospective clients amazing insights and take away content. A total success!
Alex B. Hargrove
VP UBS Bank
Nick Bradley's keynote to our staff was first-rate with everybody raving about the content they received. The added bonus was that my partner and I were able to retain Nick for the next day and spent quality training time on our golf games. The organization was flawless.
Harper Lee
CEO, The Valentine Group
In the 90 minutes Nick was with our group, we were informed and entertained. More importantly he didn't need to convince anyone that this is what they needed to do, his expertise was evident.
Alan Quarry
CEO, Quarry Integrated Communcation

Nick was the natural choice for me to communicate the critical strategy and thinking to my team.
Paul McGinley
Captain 2014 Ryder Cup Team
Nick Bradley Student Wins
Nick Bradley has instructed over 200 PGA and European Tour professionals in a 25 year career.
Frank Kennedy Winner Aug 2017 British Boys – Celtic Manor
Frank Kennedy Winner Dec 2016 Junior Publix World Championships Doral–European & British #1
Lisa Maguire – 2016 Ulster Woman's Championship
Brett Nymerer 2015 Money List #1 Great Lakes Tour Canada
2014 Ryder Cup Gleneagles Scotland – European Team Strategist with Captain Paul McGinley
Leona Maguire Duke University – 2016 regained World # 1
Zachary Bauchou 2014 Faldo Series Greenbrier VA: World #5 Junior ranking
Scott Gardiner Web.com Playoffs 2013 – 2nd – 3rd – 6th total position
Kevin Chappell – 2011 3rd US Open Congressional
Eli Matthew 2011 – Canadian National Junior Champion
Kevin Chappell – 2010 Nationwide Tour Fresh Express Classic California
Justin Rose – 2008 10th PGA Championship Southern Hills
Barbara Genuini – 2008 Scottish Amateur Championship
Barbara Genuini – 2008 French Amateur Championship
Justin Rose – 2008 Ryder Cup Singles win over Phil Mickelson
Justin Rose – 2007 European Order of Merit Championship – European #1 – World #5
Justin Rose – 2007 The Volvo Masters at Valderama
Justin Rose – 2006 Australian Masters – European Tour
Robert Dinwiddie – 2007 Rolex Trophy European Challenge Tour
Robert Dinwiddie – 2007 Scottish Open Championship European Challen
Denis O'Sullivan – 2005 Barbados Open European Seniors Tour
Philip Golding – 2003 French Open Championship European Tour
Gavin McNeill – 2003 Irish Amateur Championship
Jesper Nielsen – 2002 Danish PGA Championship
Roger Winchester – 1998 Sao Paulo Open European Challenge Tour
Samantha Head – 1999 Italian Open Championship Ladies European Tour
Sean Quinlivan – 1997 East of Ireland Championship
Eileen Rose Power – 1994 Irish Amateur Championship
Lee Dalton – 1994 Irish Boys Amateur Championship (all three divisions)
Martin Sludds – 1993 Irish Professionals Championship